NEW from Arlington
90° SNAP²IT® MC Cable Connectors with Clip
Arlington's new style of Snap2It® MC Cable Connectors features a clip for when extra room is needed to round the curve inside the connector.


---
Installation Instructions
Quick and easy, snap-in installation. NO TOOLS required! Snap the
fitting onto the cable. Snap the assembly into the box. If extra room is
needed for the cable to round the curve inside the connector, simply
loosen the screw on the clip without removing it, insert the cable, and
retighten the screw.
• Widest total cable ranges
Accommodate cables from 14/2 to 10/3.
• Widest variety of cables
For AC, MC, HCF, MC continuous corrugated aluminum
cable, MCI-A cables (steel and aluminum), AC90, ACG90
• Secure installation
No pullout!
• Easy, screwdriver removal from box
Connector is reusable
• Fully assembled—Ready to use
with and without insulated throat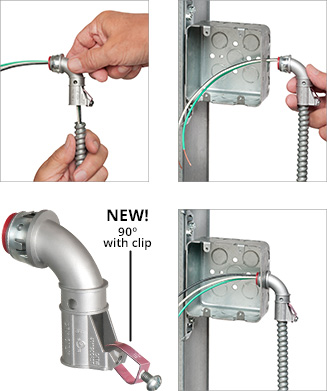 How to Buy
Contact an Arlington Sales Representative
Purchasing in Canada? Please click here to contact our Canadian Representatives.