NEW from Arlington
Flanged Conduit Cap/ Insulating Bushing with Coupler
Economical Way to Run Low Voltage Cable in New Concrete
Save time and money when running low voltage cable between horizontal concrete floors or vertical walls with Arlington's flanged conduit cap/insulating bushing. These bushings save by eliminating the need for an elaborate, expensive support system for multiple EMT conduit.

---
Features
• Sizes: 2", 3" and 4" for EMT conduit.
3" and 4" also fit rigid, IMC and PVC rigid
• Easy to use, economical alternative for
multiple conduit support

---
Installation Instructions
1. Attach flange to bottom of concrete pour
frame (plywood). Insert EMT. Add another
EMTCFT conduit cap to the other end of
EMT conduit.
2. Add and join conduit caps until you reach
the desired number of conduits.
Ready for concrete pour.
3. Concrete pour complete.
4. To use as a bushing for low voltage cable,
remove the disk from center of the
conduit cap.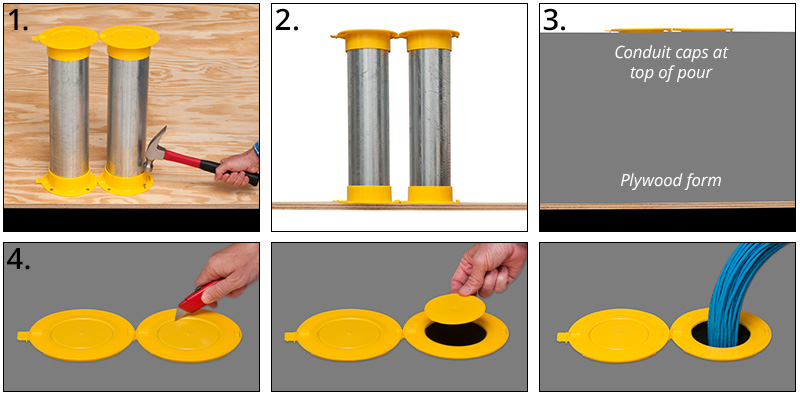 How to Buy
Contact an Arlington Sales Representative
Purchasing in Canada? Please click here to contact our Canadian Representatives.