NEW from Arlington
Steel Fan/Fixture Pan Box
with Adjustable Steel Bracket for Wood I-Joists
Arlington's UL/CSA Listed heavy-duty Steel Fan/Fixture Box with fully adjustable mounting brackets installs securely between existing wood I-beams or rafters. The new FBRS40712R fits beams or rafters set 12 to 16 inches on center and complements our FBRS407R pan box, which fits I-beams or rafters set 16 to 24 inches on center.


---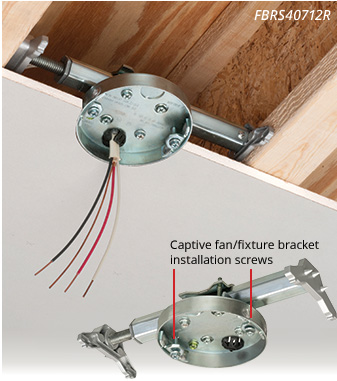 Features
• One-Piece Design No Parts to lose. Bracket installation
and adjustment screws ship captive.
• Convenient Fits 1/2" or 5/8" drywall ceilings. The 8.0 cu. in.
box can be positioned anywhere along the bracket for centering
of fan or fixture.
• Easy Mounting in Retrofit Work
• UL/CSA Listed
UL rated: 35 lb fan, 50 lb fixture;
CSA rated: 50 lb fan or fixture
Includes: Box/bracket, screws to adjust box position, installed NM cable
connector, multiple KOs, and two screws for fan/fixture bracket installation
(screwed in place until removed by installer).
---
Installation Instructions
1. Cut a 4-3/8" diameter hole in ceiling. Remove pan box
from sled and fit mounting bracket into hole,
positioning between wood I-joists with feet
resting on ceiling.
2. Loosen sled screws and slide over to access hex bar.
(Note: no need to remove sled.)
3. Tighten hex bar with a wrench to embed points and
secure between I-joists.
4. Tighten sled to hex in center of hole. Pull cable
through NM cable connector and remount box.
Attach fan/fixture bracket with supplied screws.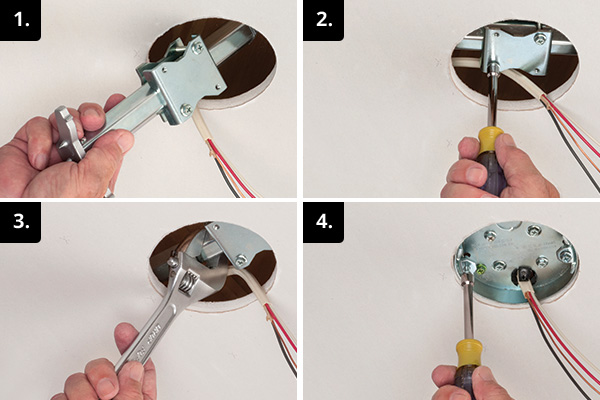 How to Buy
Contact an Arlington Sales Representative
Purchasing in Canada? Please click here to contact our Canadian Representatives.