NEW from Arlington
Fan/fixture Boxes with Adjustable Bracket
Now with HIGHER Weight Ratings • For Retrofit
Arlington's extra duty plated steel fan/fixture box now has higher UL weight ratings! With a fully adjustable range of 16" to 24" the FBRS4200R has a UL rating of 150 lbs for fixtures and 70 lbs for fans when installed on joists spaced 16" on center as well as 90 lbs for fixtures and 70 lbs for fans on joists spaced 24" on center. CSA ratings apply for 50 lbs on both fans and fixtures.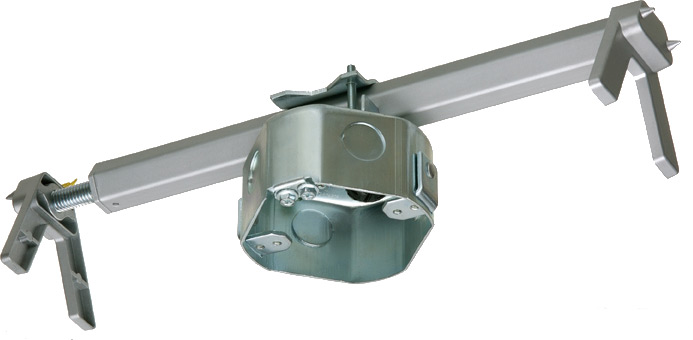 Features and Benefits

• UL/CSA Listed
• 20.0 cubic inch capacity, 2 inch box depth.
• Fast and easy installation in old work or retrofit proects.
• No parts to lose! Installation screws ship captive wuth an
installed mud cover and NM cable connector.
---
Easy to install

Determin location of fan/fixture and then cut a 4-1/16" diameter hole in the ceiling. Remove box (only) from bracket. Loosen screws on sled to enable centering above hole (step 5). Insert bracket throguh the opening.
Position bracket between joists with "feet" resting on the ceiling. Embed bracket ends in joists by turning the hex bar by hand...
...and then tightening with a wrench.

As the hex bar is tightened the bracket ends will bite into the joists, holding the unit securly in place.
Position sled and tighten screws. Pull cable though installed NM cable connector and then reattach the box to the sled. Attach fan/fixture bracket with supplied screws.
How to Buy
Contact an Arlington Sales Representative
Purchasing in Canada? Please click here to contact our Canadian Representatives.