NEW from Arlington
DROP IN™ Floor Box Kits with Steel Bracket
Fastest Installation • Low Profile Metal Covers, Steel Bracket
Arlington's new FLB4364 series DROP IN™ Floor Box Kits are the fastest way to install a box flush with an existing floor. They are designed to save time and provide a neat, flush installation. DROP IN™ box, now with a plated steel bracket, installs in minutes with a single hole saw. Kits come with a gasketed brass or nickel-plated brass cover, but accommodate most 4" covers. The cover seats into the matching low profile, .040" thick plated steel bracket, sitting flush with the floor and reducing trip hazards.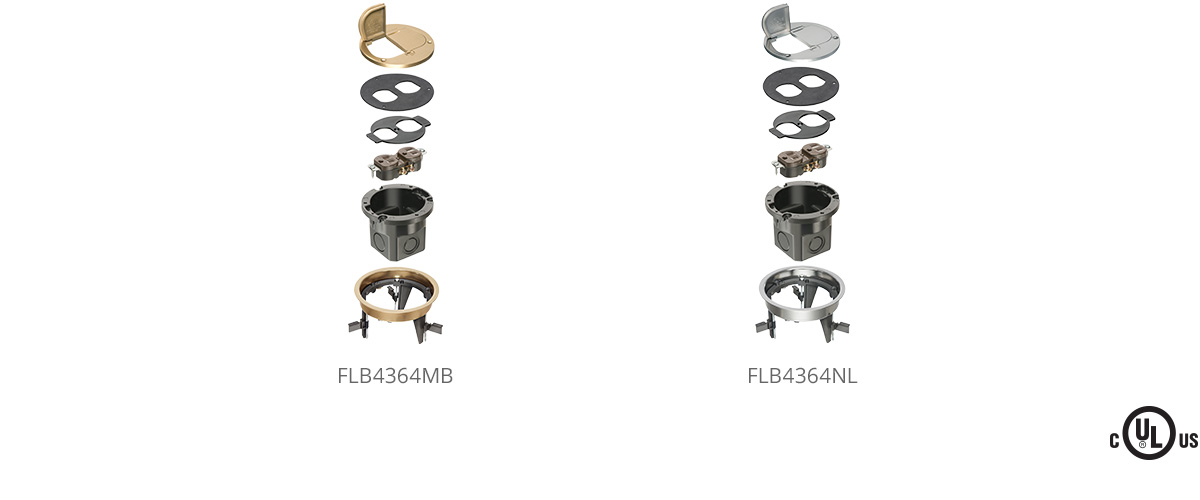 ---
Features

• Gasketed Metal Covers in brass or nickel-plated brass
with flip lids that keep water out and protect the box
• Matching Metal Carpet Ring covers cut carpet ends
for a neater finish
(sold separately)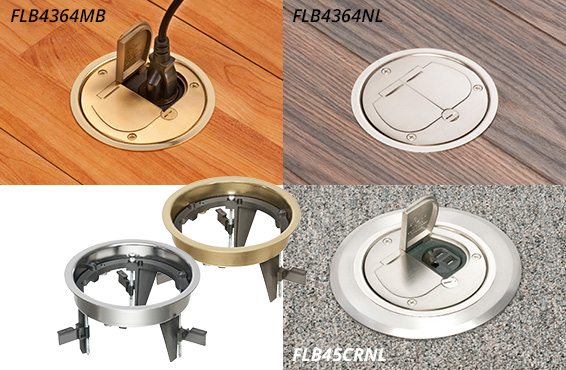 ---
Installation Instructions

1. Determine box location (avoid structural framing members).
Use a hole saw to cut a 4-1/4" diameter opening through the
floor and subfloor.
2. Insert mounting bracket using indicator marks to align bracket
for proper receptacle orientation. Tighten (3) wing screws to
secure bracket to floor.
3. Pull cable. Install in box with supplied cable connector. Attach
box to bracket with (3) #8 x 1/2" sheet metal screws (supplied)
through the U-shaped cut outs in the box flange.
4. Wire receptacle. Install in box. Attach supplied gasket support
plate to receptacle with #6 x 1/2" screw.
5. Cover Installation Install gasket. Attach cover to box with (3)
supplied #8 x 1/2" flathead machine screws.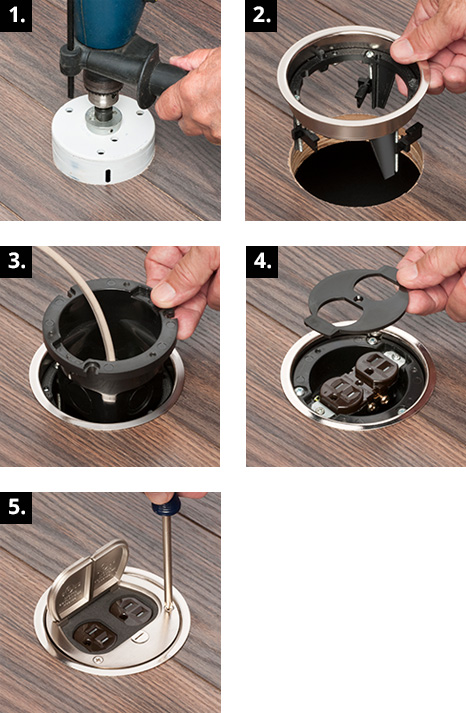 How to Buy
Contact an Arlington Sales Representative
Purchasing in Canada? Please click here to contact our Canadian Representatives.