NEW from Arlington
Box Extender/Leveling Ring for Concrete Floor Box
Fits Arlington's FLBC4500 and other 4-1/2" round boxes
Arlington's Box Extender/Leveling Ring is the solution for adding depth to an installed round concrete box. FLBC4500LRBE is perfect for times when the finished floor is too high. This box extender extends an installed 4-1/2" round box up to 2", and allows for a level cover installation.


---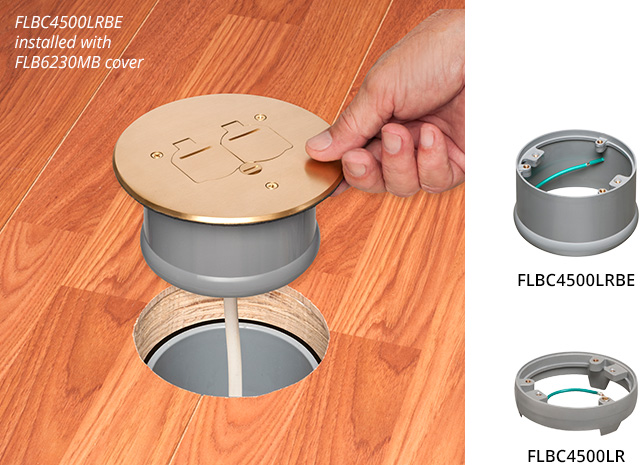 Features

• Easy to install
• Fits installed 4-1/2" round concrete boxes like
Arlington's FLBC4500, and others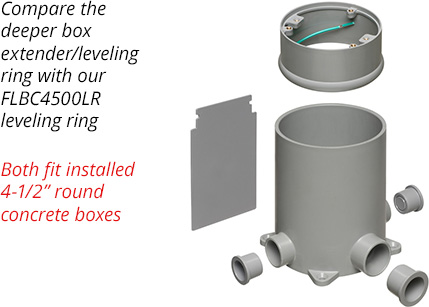 ---
Installation Instructions
1. The installation of a new floor makes the installed box too
deep for the box cover to fit properly.
2. Install cover (not included) on FLBC4500LRBE. Wire receptacle.
Insert the assembly into the opening and glue it in place.
3. Problem solved! FLBC4500LRBE extends box depth up to 2".
(Shown with Arlington's FLB6230MB cover.)
4. (Shown with Arlington's FLB6220MB cover.)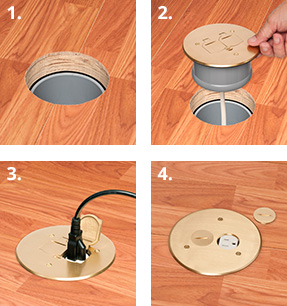 How to Buy
Contact an Arlington Sales Representative
Purchasing in Canada? Please click here to contact our Canadian Representatives.