NEW from Arlington
LEV-L MASTER™ Floor Box Kit
Levels Installed Concrete Box for Installation of Cover
Arlington's LEV-L MASTER™ Floor Box Kit solves the problem of an unlevel floor box cover caused by a box installed at an angle in new concrete. Its black leveling ring flexes to allow the box cover to sit flush with the floor. NO GLUING! The included screws attach the ring to the box, making it easy to correct any errors by backing the screws out. The LEV-L MASTER™ accommodates a variety of metal and non-metallic covers with flip lids or threaded plugs.


---
Features

• Costs the same as our FLBC4500 concrete
floor box, while providing better features
• Solves problem of boxes installed at an angle
• No gluing
Installation Instructions

1. After the concrete has cured and the flooring
is installed, use a saw to cut the box.
2. Cut the box to finished floor height.
3. Install the leveling ring on the box.
4. Use the two #8 x 2-1/2" screws provided.
For textured or grooved flooring, use caulk
as required, under the leveling ring.
5. Install the device (sold separately). Wire per
National, State and local code requirements.
6. Then, install the cover (sold separately).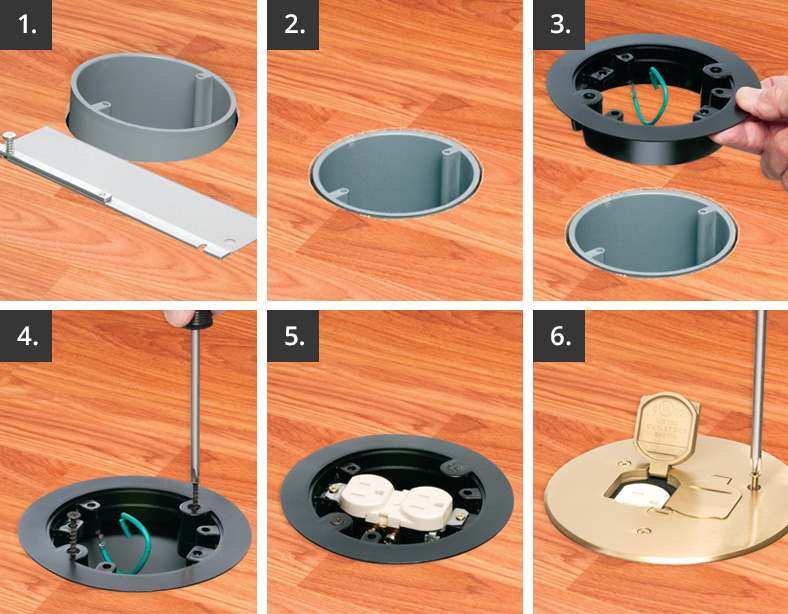 ---
How to Buy
Contact an Arlington Sales Representative
Purchasing in Canada? Please click here to contact our Canadian Representatives.