NEW from Arlington
One-Piece Non-Metallic Box with
Steel Bracket & Plastic Cover
Arlington's floor box kits with round plastic boxes and plastic covers offer easy, secure installation in existing floors. The gasketed plastic covers come with a decorator-style receptacle and a single flip lid in five designer colors: brown, caramel, gray, light almond, and white. They cover miscut openings and install nearly flush with the floor, preventing damage to devices in the box.


---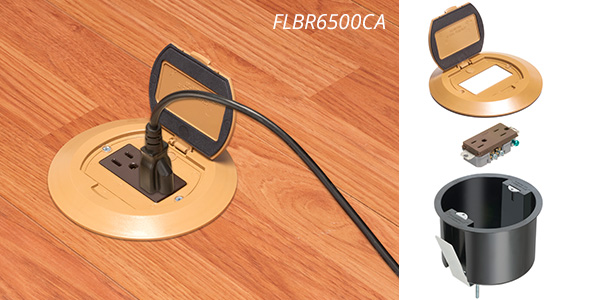 Features

• Easy, secure installation in an existing floor with a 5" hole saw.
A bendable steel spring clip holds the box securely against the
subfloor when the captive screws are tightened.
• For floors up to 1-1/2" thick
• UL Listed
• Competitively priced

---
Installation Instructions
1. Using a hole saw, cut out a 5" diameter opening in the
floor and subfloor.
2. Pull wire through supplied NM cable connector. Insert
box, bending the clip as necessary to fit through the
opening.
3. Rotate box to desired orientation. Tighten #10-32
screws to pull box securely against the underside
of subfloor.
4. Fasten cover on box using the two #6-32x1" screws
provided. (FLBR6500GY shown)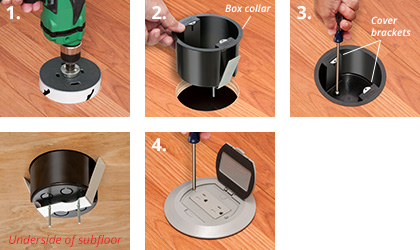 How to Buy
Contact an Arlington Sales Representative
Purchasing in Canada? Please click here to contact our Canadian Representatives.