NEW from Arlington
Countertop Box Kits with
Round Plastic Box & Round Metal Trapdoor Cover
Arlington's Countertop Box Kits with round plastic boxes and round metal covers give you options for installing a device in a countertop AND a parallel, great-looking installation. Kits are available in either brass or nickel-plated brass with a choice of an installed UL Listed tamper resistant (TR) decorator-style GFCI, a TR receptacle, or a TR receptacle with two USB ports. The round gasketed metal covers hide miscut openings and close nearly flush with the countertop, preventing damage to the devices in the box.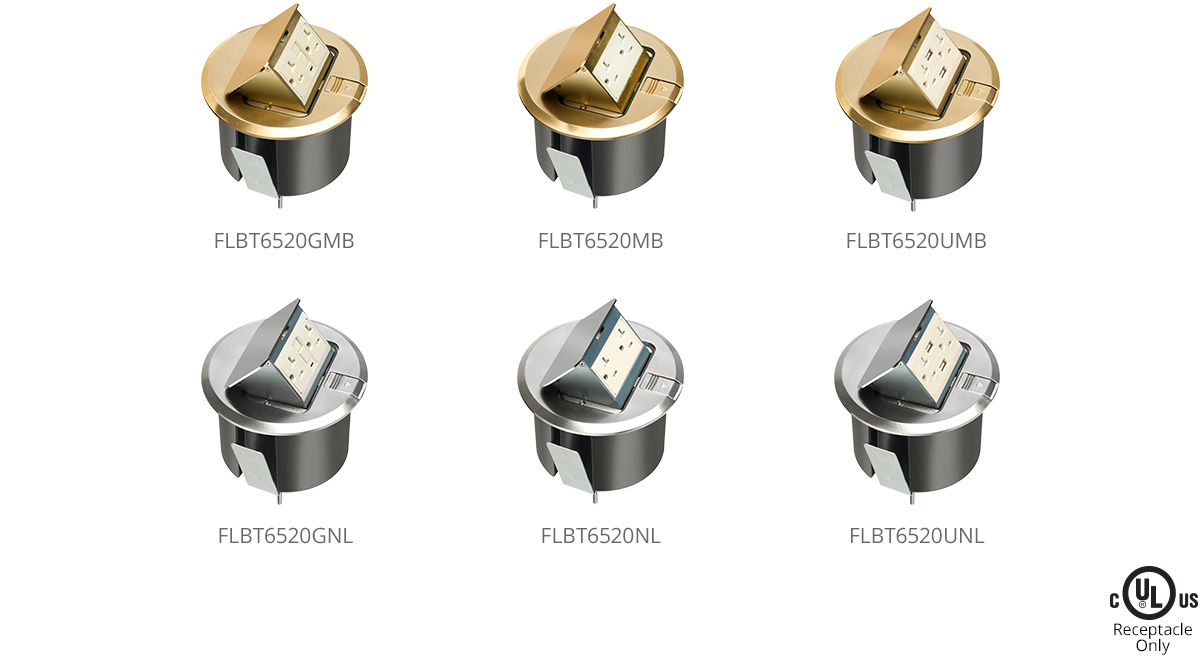 ---
Features
• Easy, secure installation
A steel spring clip holds the plastic box securely against the
surface when the screws are tightened. It's also 'bendable' so
it's easy to insert into the opening in the countertop.
• Fits granite or other countertop material up to 1-1/2" thick
• Easy 'No Glue' installation
• Complies with NEC section 406.5 (E) for use in countertops or
similar work surfaces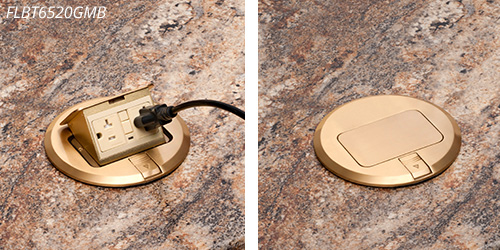 ---
Installation Instructions
1. Determine box location. Cut a 5" diameter opening in
countertop. Insert box, bending the clip as necessary to
go through opening.
2. Secure box to countertop by tightening two #10 screws
inside box…
3. …drawing the box securely against the underside of the
counter. NO GLUING!
4. Wire receptacle in accordance with National, State, and
local codes.
5. Install trapdoor coverplate to box using the two #6-32
screws provided.
Note: Round cover hides miscut openings.
6. Rotate box/cover assembly into position, lining it up
parallel with the countertop and backsplash.
7. Finished, parallel installation!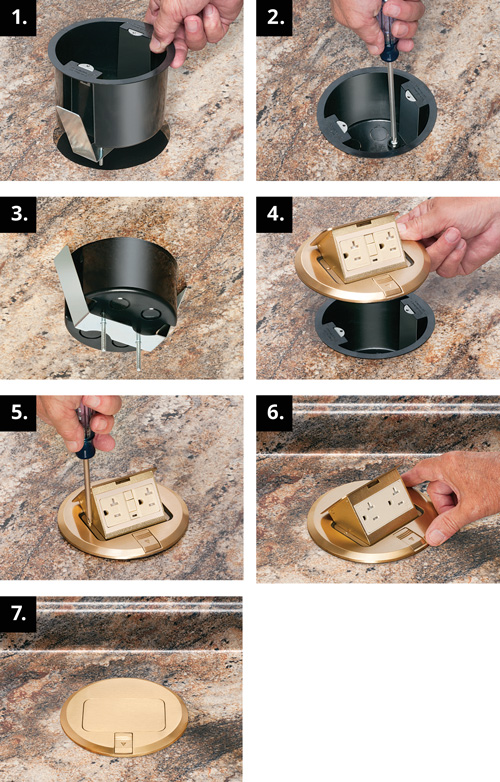 How to Buy
Contact an Arlington Sales Representative
Purchasing in Canada? Please click here to contact our Canadian Representatives.