Vapor/Water Barrier Cover for Exterior Fixture Boxes
Keeps water from entering around outside of installed box
Designed for exterior fixture boxes, Arlington's vapor/water barrier cover prevents water and air from entering around a box installed on exterior sheathing, without the need for caulking – or a gasket. It saves time and money.
Easy to install, the flashing mounts over the installed box. FR410F comes with two rings for use on a pan box or a deeper octagon box.
---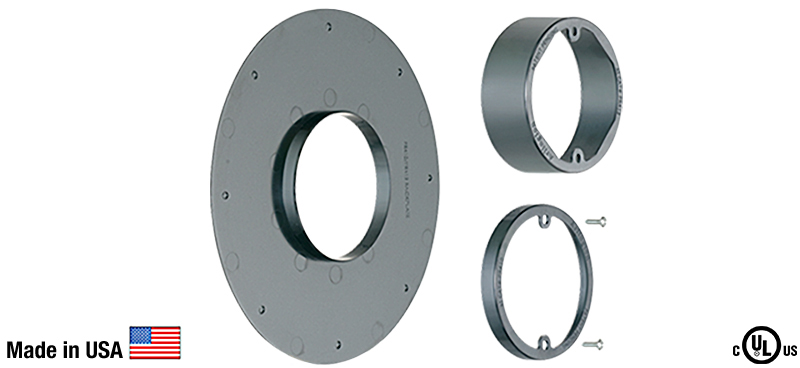 ---
Installation Instructions (for pan box)
1. Place flashing backing over box.
2. Attach flashing backing to sheathing through flashed-over holes.
3. Using two supplied #8-32 screws, temporarily attach appropriate box flange to installed box. FR410F comes with two box flanges; one for a pan box, the other for an octagonal box.
4. Remove temporary #8-32 screws and install fixture mounting hardware to installed box per fixture manufacturer's instructions.
5. Installed fixture.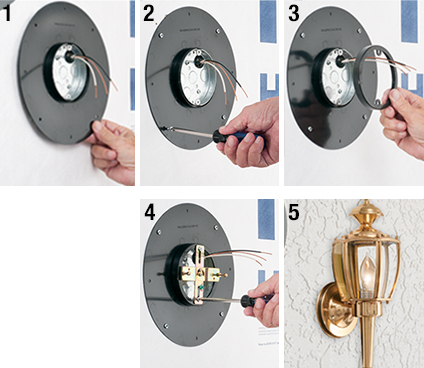 How to Buy
Contact an Arlington Sales Representative
Purchasing in Canada? Please click here to contact our Canadian Representatives.