NEW from Arlington
IN BOX® COVER KITS for Concrete Floor Boxes
Recessed Decorator-Style Receptacle
Arlington's new IN BOX® COVER KITS give installers the best way to install a receptacle in new concrete. These new cover kits are recessed and install into the can so they reduce the trip hazard caused by plugs sticking out of the box. For convenience, you can also have power and low voltage in the same box.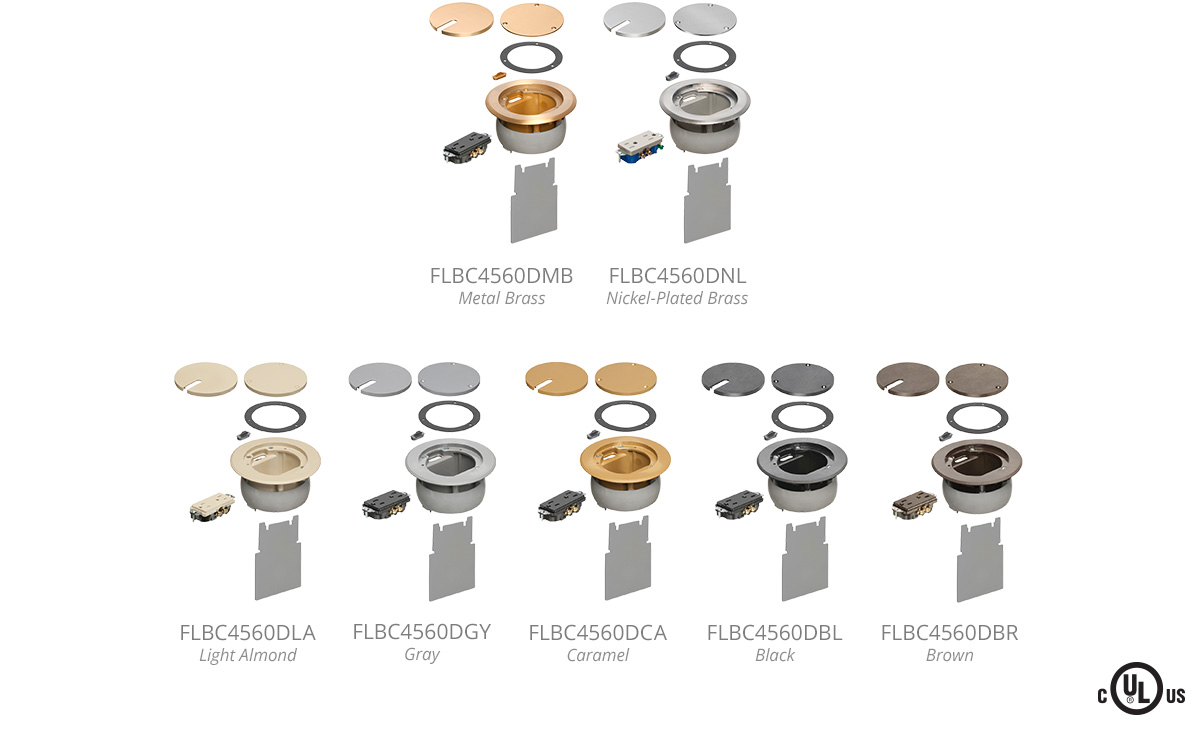 ---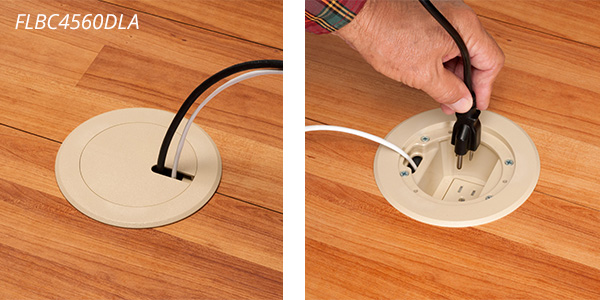 Features

• Available with metal flanges in brass or nickel-plated brass
• Available in plastic in 5 colors: light almond, gray, caramel,
black, and brown
• Made of heavy-duty plastic
• Accommodates our 4.5" non-metallic FLBC4500 concrete
box (sold separately)
• Kits include: Leveling Ring Assembly (Carpet Flange, Funnel,
and UL Listed 15A Decorator Receptacle), Low Voltage
Divider, Blank Cover with Gasket, In-Use Slotted Cover, Low
Voltage Plug, #8 x 5/8" Lg. Flat Head Screw
Note: Receptacle ships installed in the leveling ring assembly
in all kits.
---
Installation Instructions
1. After concrete has cured and finished floor installed, cut the
installed FLBC4500 concrete box to finished floor height.
If using the low voltage divider, cut the same amount from
the bottom of the divider as you removed from the can.
2. Secure the leveling ring assembly to the installed FLBC4500
can with PVC cement.
3. Install the blank cover in unused boxes to avoid possible
trip hazard.
4. Remove blank cover to use receptacle.
5. Install the slotted in-use plug cover and store
blank cover for future use.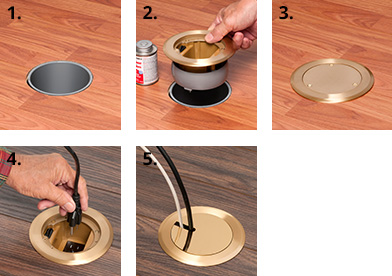 ---
Also take a look at our FLB5331 and FLB5551 floor box kits!

How to Buy
Contact an Arlington Sales Representative
Purchasing in Canada? Please click here to contact our Canadian Representatives.