NEW from Arlington
Joist Mounting Fan/Fixture Box
One Piece Box Design • No Pieces To Use • 2 Hour Fire Rating
The FB444 fan/fixture box is a 26.5 cubic inch box that mount securly to single or double joists with a shipped in place center screw. The ability to support fans up to 70 lbs with a 2 hour fire rating! A UL Listing makes this box an ideal choice for installation. The FB442 and FB443 are slightly smaller boxes, but offer the same great features and benefits.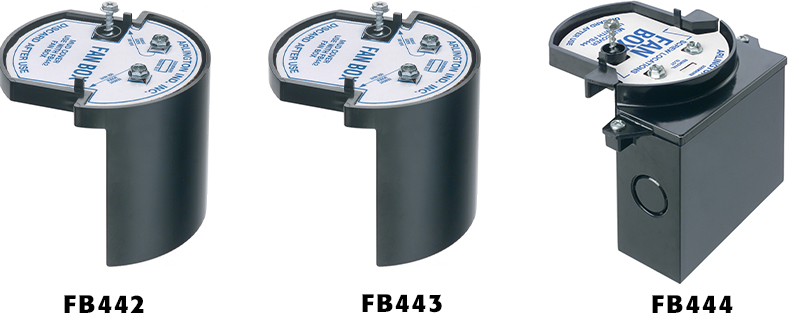 ---
Features and Benefits

• Fast and easy to install with a 2 hour fire rating.
• Locator posts assuer than fan/fixture bracket is positioned properly for mounting directly to the joist!
• UL Listed for fans up to 70 lbs, fixtures up to 200lbs, and are CSA Listed for fans and fixtures up to 50 lbs.
• Boxes ship with an installed NM cable connector, mud cover, and captive installation screws for both box and mounting bracket.
Easy to install

Position FB442 box alongside joist. Tighten center screw, mounting the box to the joist.
Pull wires. After finished ceiling installed, remove bracket installation screws and use them to instll the bracket (step three).
NOTE: Position mounting bracket over locator posts to assure porper positioning.

Mount fan/fixture box using the installation screws that were removed in step 2.
Follow manufacturer's instructions to install fan or fixture.
OPTIONAL: If necessary, the bottom of the FB444 box can be opened to re-stuff wires.
How to Buy
Contact an Arlington Sales Representative
Purchasing in Canada? Please click here to contact our Canadian Representatives.