NEW from Arlington
Black Button® NM Cable Connectors
Listed for single or multiple cables, Arlington's non-metallic Black Button® NM Cable Connectors offer smooth, easy cable insertion into a single opening (two separated openings for NM942) while exceeding UL and CSA pullout requirements.

---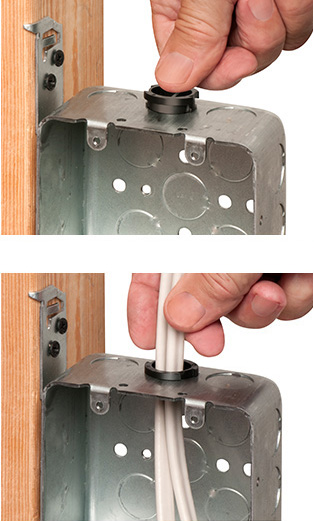 They are the lowest cost NM cable connectors on the market and the fastest
to install. Simply push the connector into theknockout, and you're done!
• Removable, reusable
• 1/2", 3/4" and 1" trade sizes
• UL/CSA Listed
• NM942, NM94, and NM95 hold one or two cables, including:
- One or two 12/2
- One or two 14/2
- One or two 10/2
- One 12/2 & one 14/2
- One 14/2 & one 10/2
- One 12/2 & one 10/2
For multiple cable installations, insert two cables together or individually
into NM94 or NM95. Add a second cable without removing the first.
NM96 fits one larger cable, including:
- One 4/3 to 8/3
- One 6/2 to 4/2
---
To remove from KO, slip screwdriver under connector and twist.


How to Buy
Contact an Arlington Sales Representative
Purchasing in Canada? Please click here to contact our Canadian Representatives.