NEW from Arlington
Heavy-Duty, Non-Metallic Enclosure Boxes
Available With or Without Back Plate • Meets NEMA 3R
Arlington's non-metallic enclosure boxes now meet NEMA 3R requirements for outdoor use. They're the perfect solution for protecting and securing power backups, security devices and other valuable equipment indoors or outdoors.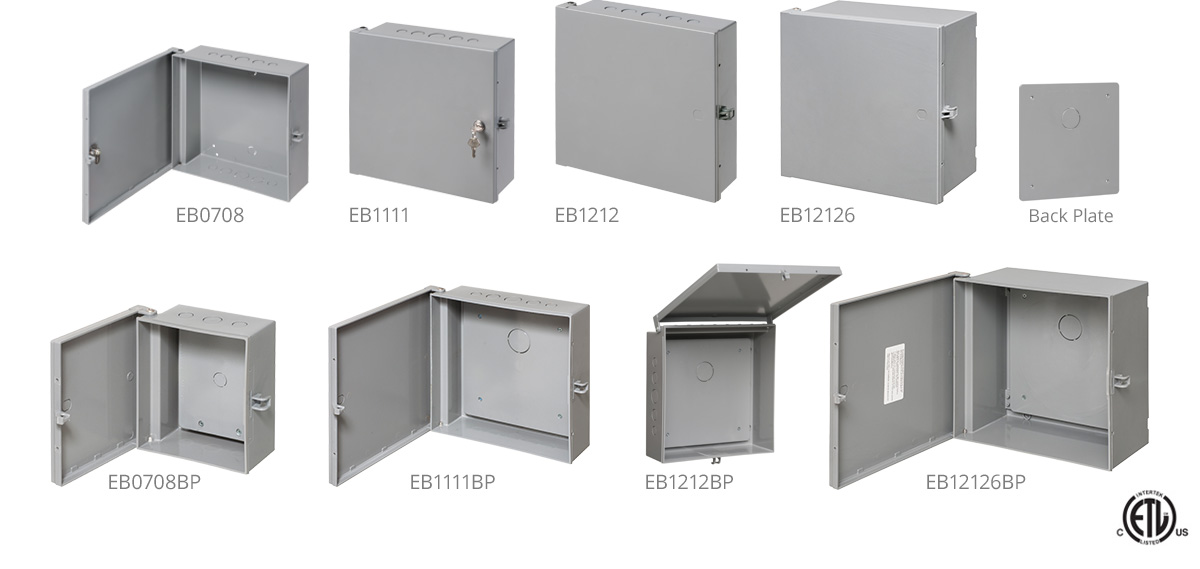 ---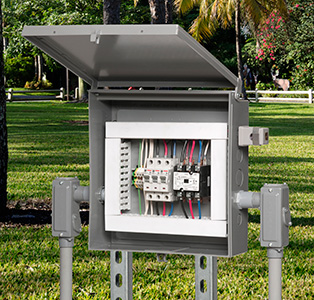 Features
Made of heavy-duty, UV rated non-metallic material, our boxes are NEMA 3R
rated for outdoor use when mounted with the hinge on top. Boxes are
available in four sizes, with or without back plate:
• 7" x 8" x 3.5" (EB0708, EB0708BP, EB0708BL)
• 11" x 11" x 3.5" (EB1111, EB1111BP, EB1111BL)
• 12" x 12" x 4" (EB1212, EB1212BP,EB1212BL, EB1212BPBL)
• 12" x 12" x 6" (EB12126, EB12126BP)

The back plate allows components to be pre-installed or installed at the job site.
The EB12126 can be mounted with optional exterior brackets after components
are installed, or from inside of the enclosure.
---
Lock Options & Colors
Arlington's enclosure boxes are lockable via a knockout on
the front of the box for a cam lock (EBL1) or a latch that
holds a padlock.

Boxes are available in either gray or black.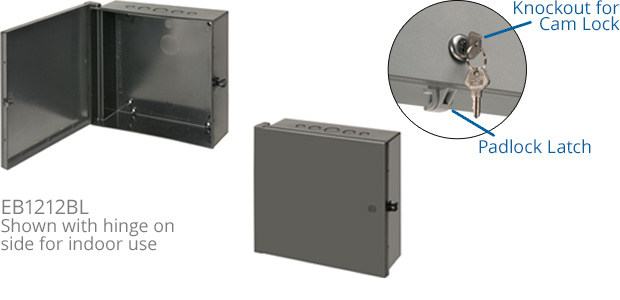 How to Buy
Contact an Arlington Sales Representative
Purchasing in Canada? Please click here to contact our Canadian Representatives.