NEW from Arlington
Non-Metallic ONE-BOX™
The Versatile Outlet Box for New or Old Work • 2 Hour Fire Rating
Fast and easy to install, Arlington's versatile outlet box is the ONE-BOX™ for new or old work. It mounts directly to a wood or steel stud for a super secure installation. Angled screws inside the ONE-BOX™ affix it firmly to the stud. it has no "wings" so there is no wobble!


---
Features and Benefits

• UL listed, 2 hour fire rating.
• Horizontal and vertical styles
• Optional low voltage serperator for multiple gang boxes.
• Single-gang offers extra large capacity of 22 cubic inches.
• Single and multiple gangs inclued nistalled NM cable connector.
• F102D cover sold for the F102 ONE-BOX™ for when box not in use,
cover sold seperatly.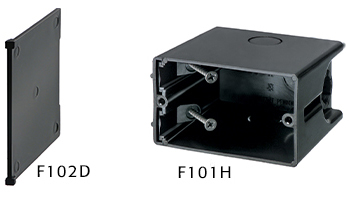 ---
New Work Installation Instructions


Attach ONE-BOX™ to wood or steel stud with captive installation screws. If box is too far forward or back, back out screws to reposition.
Pull wire through NM cable connector. (ships installed)
Old Work Installation Instructions


Position ONE-BOX™ adjacent to stud. Use box as template to cut out hole.
Pull wire through installed NM cable connector. Insert ONE-BOX™.
Mount ONE-BOX™ directly to stud with shipped in place screws.
How to Buy
Contact an Arlington Sales Representative
Purchasing in Canada? Please click here to contact our Canadian Representatives.