NEW from Arlington
SNAP²IT® Connectors for Retrofit
Arlington's new one-piece Retrofit Snap2It® fittings are easy to use in an old work installation and handle the widest variety of cables. They are ideal for adding additional circuits to a load center. And you get the same labor-saving in a retrofit installation!

---
Installation Instructions
Installation is quick and easy with NO TOOLS required. Install into the knockout
in an existing box, pulling the cable/conduit through the KO. Slip the fitting onto
the cable, then snap the assembly into the box. That's it!
• Widest total cable ranges
Our retrofit Snap2It® connectors accommodate cables from 14/2 to 10/3.
• Widest variety of cables
For AC, MC, HCF, MC continuous corrugated aluminum
cable, MCI-A cables (steel and aluminum), AC90, ACG90 and FLEX.
• Super-secure installation
No pullout!
• Fully assembled one-piece design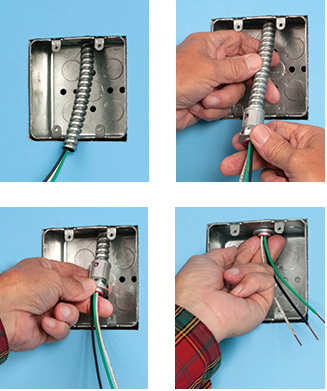 How to Buy
Contact an Arlington Sales Representative
Purchasing in Canada? Please click here to contact our Canadian Representatives.