NEW from Arlington
UL Listed TV Bridge™ III Kits
Pre-wired, Pre-assembled for Flat Screen TV Installation
Arlington's new UL Listed TV Bridge™ kits are the easiest, fastest way to install a flat screen TV. Kits are pre-wired and fully assembled. All you need to do is cut openings in the wall near a power source. Then, install two screws and tighten the four mounting wing screws that hold the boxes in the wall. That's it! There's no need to cut framing members or to run power from a panel box.


---
Features

• UL Listed to meet NEC 400.7 (11) for interconnecting
wiring between an existing receptacle and an inlet
• Plugs and connections stay inside recessed boxes;
TV mounts flush against the wall
• No mess!—wires stay hidden behind the wall
• Available in two styles:
TVBR21K: 2-gang upper box and single-gang lower box
TVBR22K: TWO 2-gang upper and lower mounting boxes

Installation Instructions

1. Determine box location, avoiding framing member and
obstructions. Cut (2) openings, with the top in desired location
for TV; the bottom directly below it, near an existing electrical
outlet. (Templates supplied for cutouts). Fish power cable
through top hole to bottom hole.
2. Install upper mounting box in opening by tightening
four flag screws.
3. Attach male end of power cable to back of lower mounting
bracket using (2) #8 x 1/2" screws (provided).
4. Insert lower assembly into opening and tighten four flag
screws to hold it to the wall.
5. Energize the TV Bridge™ III kit by plugging the supplied
power extension cord into existing receptacle or surge
suppressor, and male end of power cable.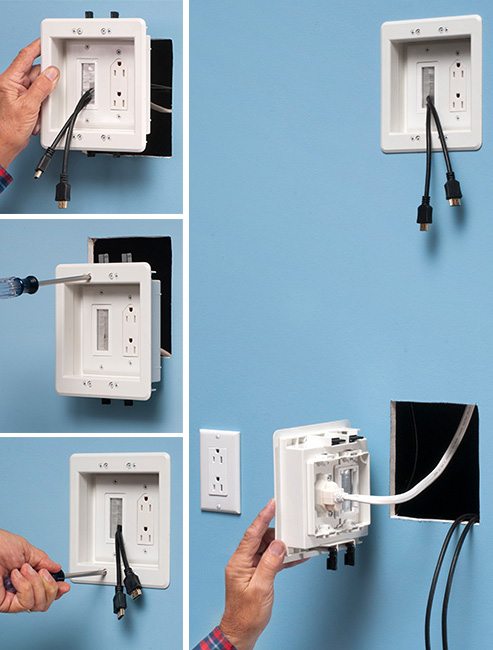 How to Buy
Contact an Arlington Sales Representative
Purchasing in Canada? Please click here to contact our Canadian Representatives.